The magic is in the details
The credo of Haro Teppiche by Paulig is: to bring warmth, aesthetics and comfort into your homes. We want you to enjoy the special flair of our rugs with every one of your senses.
Our market position: setting trends in terms of product development, creation of innovative textures harmonious colors and design concepts. We take pride in our work.
We are proud to see that our distinctive rugs set carpet trends. This affirms that our collections reflect the spirit of the times. Our rugs are made to create another form of textile sensuality, over and above their decorative functions.
Our custom made classics make everything possible, all the way up to 400 cm width. With more than 200 yarn colors offered, we can respond to everybody's personal taste. And, those who don't find their rug despite these million and one choices can create their very own pieces as well.
We would like to introduce our design team to you: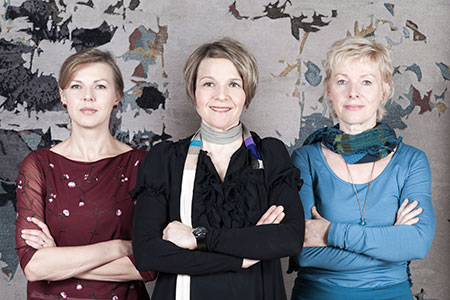 from left: Liane Neubert, Petra Both, Antje Reschwamm
The graduate in textile design Liane Neubert finds inspiration everywhere – in nature, in fashion and art. Liane's courage to use unusual material blends as well as her keen sense of the interplay of colours, structures and patterns result in carpet designs of the highest designer level. With her excellent craftsman skills and technical knowledge, Liane manages to realize even the most unusual wishes. Liane develops products for all Paulig brands.

Petra Both finished her studies in art education,focusing on sculpture,in 1999 with a master's degree. After a training course in the field of graphic and DTP, Petra was hired by MAKALU® DESIGN as a designer in 2003.As the head designer,
she was soon creating the Nepal and hand tufted collections and she personally monitored the implementation of production in Nepal. In 2006 she won the international CARPET DESIGN AWARD as a finalist and then went to PAULIG with the acquisition of MAKALU®­DESIGN.
In 2015 Petra was again nominated for the international CARPET DESIGN AWARD with one of her rug designs. She now develops products for all brands in the Paulig Group.

Known in the business for many years, you can still find Antje's carpets from former times on the market. As a matter of fact an award winning Reschwamm design decorated the floor of the German pavilion at the World Fair in Seville. Antje's feeling for trends and her technical know-how, which enabled her to produce her ideas right after her graduation in her own studio, are the basis for her extraordinary talent to create new carpets with exceptional patterns. Antje is also involved in product development for all brands in the Paulig Group.